Vegetarian lasagna recipes
Vegetarian lasagna is another vegetarian recipe favourite. There are different variations of  the traditional vegetarian lasagna and we have collected the tastiest vegetarian lasagna recipes in one place. There is a recipe for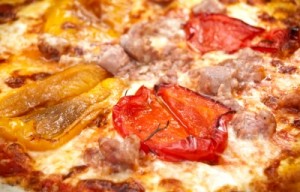 cheesy vegetarian lasagna, vegetarian lasagna eggplant (also known as vegetarian lasagna zucchini), quorn vegetarian lasagna and lasagna for vegetarians with spinach. You can also do a modern twist on vegetarian lasagna by making vegetarian lasagna roll like cannelloni rather than laying the lasagna flat in a dish. Although vegetarian lasagna calories can be higher than other vegetarian dishes it depends on whether you make the vegetarian lasagna with mainly vegetables or go for a more cheesy vegetarian lasagna recipe.
Follow any of our free recipes for a tasty vegetarian lasagna and let us know which lasagna for vegetarians is your favourite.
___________________________________________________________________
Traditional vegetarian lasagna  
Preparation time: 25 mins
Cooking time: 1 hour
Serves: 12
Ingredients
1 (16 ounce) pack pasta sheets or lasagna noodles
1 lb fresh sliced mushrooms
3/4 cup chopped green pepper
3/4 cup chopped onion
3 cloves fine chopped garlic
2 tbsp vegetable oil
26 ounce) pasta sauce
1 tsp dried basil
16 ounce semi-skimmed ricotta cheese
4 cups shredded mozzarella cheese
2 eggs
1/2 cup grated parmesan
Directions
Cook pasta sheets or lasagna noodles in boiling water for 10 minutes until al dente. Drain and rinse with cold water.
Cook mushrooms, green peppers, onion and garlic in oil till slightly browned.
Stir in pasta sauce and basil. Bring to boil then quickly reduce heat and simmer for 15 minutes.
Mix the ricotta, mozzarella cheese and eggs in a separate bowl.
Preheat oven to 175 degrees C / 350 degrees F. Spread 1 cup of the tomato sauce into a greased 9×13 inch baking dish. Layer half each of the mixtures of lasagna noodles, ricotta mix, sauce and Parmesan cheese. Repeat layering and top with last 2 cups mozzarella cheese.
Bake, uncovered, for 40 minutes. Let stand for 15 minutes before serving.
___________________________________________________________________
Ravioli vegetarian lasagna
Preparation time: 25 mins
Cooking time: 1 hour
Serves: 4
Ingredients
2 packs frozen spinach, defrosted
2 tbsp olive oil
4 cloves finely chopped garlic
2 drained cans quartered artichokes
Salt and pepper to taste
To make white sauce:
2 tbsp butter
2 tbsp plain flour
2 cups vegetable stock
1/2 cup cream or milk
1/2 cup grated parmesan
1/4 tsp freshly grated nutmeg
Salt and black pepper
2 cups grated cheese
1 large pack  containing your favourite filling such as mushroom or four cheese
1 lb trimmed asparagus spears
Directions
Drain defrosted frozen spinach.
Heat a pan over at medium heat and add olive oil and garlic. Saute garlic for about 1 minute then add spinach and artichoke and turn to heat. Season with salt and pepper and remove from heat into a bowl.
To make sauce put pan back on the heat and melt butter. Whisk flour into butter and heat for about 1 minute. Whisk stock into flour and butter and let it bubble. Whisk in cream and parmesan. Season sauce with nutmeg, salt and pepper and thicken for 1 minute.
Boil the ravioli in lightly salted water for 4 to 5 minutes or until ready then drain.
Cook or steam the ravioli until just tender. Remove asparagus and mix with spinach and artichokes.
Drizzle olive oil onto the bottom of a medium casserole dish or baking tray and brush to coat evenly. Arrange a layer of half the cooked ravioli in the dish. Layer 1/half the cooked vegetables over the ravioli. Add some sauce, then vegetables, then top with the last of the ravioli. Dab the top with remaining sauce and cover with grated cheese. Brown under grill for 5 mins.
___________________________________________________________________
 Quorn vegetarian lasagna  
Preparation time: 30 mins
Cooking time: 1 hour 30 mins
Serves: 6
Ingredients
2 large finely chopped onions
2 finely chopped garlic cloves
300g pack frozen Quorn mince
400g can chopped tomatoes
500g tomato passata
2 tsp chopped fresh thyme
1 vegetable stock cube
250g no pre-cook lasagne sheets
For the topping:
600ml semi-skimmed milk
2 tsp english mustard
1 tbsp cornflour
30g hard cheese
salt and black pepper
Directions
Preheat oven to 180ºC / 350ºF / gas mark 4.
Heat pan. Fry onions and garlic until soft. Add Quorn mince and cook until brown.
Add all other ingredients . Simmer for 20 mins.
I another pan heat milk and mustard powder in a saucepan. Mix cornflour with cold milk and whisk with milk and mustard. Season with salt and pepper.
Spoon thin layer of sauce into an oven dish. Cover with layer of lasagne sheets. Continue layering Quorn sauce and lasagne sheets.
Spread some sauce over the top of the vegetarian lasagna and sprinkle with grated cheese.
Bake in the oven for  about 40 mins covering with foil if necessary. Brown top cheese under grill.
___________________________________________________________________
Cheesy vegetarian lasagna  
Preparation time: 35 mins
Cooking time: 35 mins
Serves: 12
Ingredients
1 (16 ounce) pack lasagna noodles or pasta sheets
2 tbsp oil
2 heads chopped fresh broccoli
2 thinly sliced carrots
1 chopped onion
2 chopped green peppers
2 sliced eggplant / zucchini
3 finely chopped cloves garlic
1/2 cup flour
3 cups milk
3/4 cup parmesan cheese
1/2 tsp salt
1/2 tsp pepper
10 ounce frozen chopped spinach, defrosted
8 ounce cottage cheese
24 ounce ricotta cheese
2 1/2 cups shredded mozzarella cheese
Directions
Preheat oven to 375 degrees F / 190 degrees C. Grease a 9 x 13 inch oven dish or oven tray.
Boil large pot of salted water and cook lasagna noodles for 8 to 10 minutes or until al dente then drain.
Heat oil in a large pan at medium heat. Add onions,  broccoli, carrots, peppers, eggplant and garlic. Saute for 7 minutes.
Place flour in a saucepan and whisk in milk. Bring to boil then cook for 5 mins until thick. Stir continuously. Stir in 1/2 cup parmesan, salt and pepper and cook for 1 minute whilst stirring. Take off the heat and stir in spinach. Retain 1/2 cup spinach mixture. Mix cottage and ricotta cheeses separately.
Spread 1/2 cup of spinach mix at bottom of the pan. Layer noodles, ricotta mix, vegetables, spinach mix and 2 cups mozzarella, top with noodles. Finish topping with last of the spinach mix, 1/2 cup mozzarella and 1/4 cup parmesan.
Bake in oven for 35 minutes and lightly brown top under grill.
___________________________________________________________________
Spinach and ricotta filling vegetarian lasagna
Preparation time: 30mins
Cooking time: 1 hour
Serves: 8
Ingredients
1 bag spinach
1 lb ricotta
2 eggs
1/2 tsp nutmeg
1 diced onion
2 minced cloves garlic
1/2 head cauliflower cut  into small pieces
2 large cans plain tomato sauce
1 lemon zest
1 and 1/2 lbs no-boil lasagna noodles
salt and pepper to taste
1 lb grated mozzarella
4 oz grated parmesan
Directions
Simmer the spinach for about 5 mins, cool it and drain well before stirring into the ricotta along with the nutmeg. Add salt and pepper and beat in the eggs.
Saute onion and garlic, add cauliflower and saute for 5 mins. Add tomato sauce and lemon zest. Simmer for 5 mins.
Oil an medium size casserole dish or oven tray. Stack with  about 4 layers of noodles, sauce, ricotta mix and mozzarella. 

Finish with layer of parmesan and mozzarella.
Bake at 375 degrees F for about 35 mins or until soft and bubbling at sides. Crisp top cheese for 5 mins under grill.
___________________________________________________________________
Eggplant vegetarian lasagna (zucchini vegetarian lasagna)
Preparation time: 10 mins
Cooking time: 1 hour
Serves: 4-6
Ingredients
2 large eggplants, sliced longways 3/4 inch thick  into about 8 slices
5 tbsp oil
Salt and pepper
1 cup thinly sliced mushrooms
2 minced garlic cloves
1 tbsp freshly chopped thyme leaves
15 ounce ricotta cheese
3 large eggs
1 cup grated parmesan
2 tbsp freshly chopped oregano leaves
2 cups passata or tomato sauce (recipe below if required)
Directions
Preheat oven to 400 degrees F.
Arrange eggplant in single layer at bottom of pan. Brush on both sides with oil and season with salt and pepper. Roast the eggplant for about 25 mins until soft and golden. Turn slices halfway through.
Place rest of the oil and the sliced mushrooms in pan and saute until soft -about 7 mins. Add garlic and thyme. Cook for 2 mins.
In a bowl mix ricotta, eggs, 1/2 cup parmesan, oregano, mushrooms, 2 tsp salt and 1/4 tsp pepper. Brush 8 inch baking tray with oil.
Spread half the tomato sauce on bottom of the baking dish. Lay 4 slices of eggplant on top then some ricotta mixture. Lay further 4 slices of eggplant and finish with tomato sauce. Top with the remaining 1/2 cup parmesan. Bake until browned at 350 degrees, for about 30 minutes.
To make the tomato sauce:  
5 cloves garlic
Salt and pepper
Olive oil, divided
1 diced large onion
3 peeled and diced carrots
2 tbsp tomato paste
1 cup fresh basil leaves
2 tbsp freshly picked oregano leaves
28 ounce can chopped tomatoes
Directions for tomato sauce
Preheat the oven to 400 degrees F.
Peel garlic and wrap in foil. Sprinkle with salt and pepper and drizzle with small amount olive oil. Wrap the foil over and place in oven rack. Roast garlic until brown and soft- about 25 mins. Cool and squeeze the garlic from their skins.
Saute onions and carrots. Add tomato paste and stir. Cook for about 10 mins. Add roast garlic, salt, pepper, herbs and mix well together. Add tomatoes then fill empty can with water and add to pan. Boil then reduce heat and simmer, stirring occasionally for about 1 hour. Cool sauce then puree in a blender.
___________________________________________________________________
Useful links
Home
Other vegetarian recipes


Photo credits Image: graur codrin / FreeDigitalPhotos.net Image: vitasamb2001 / FreeDigitalPhotos.net Image: Suat Eman / FreeDigitalPhotos.net Image: Carlos Porto / FreeDigitalPhotos.net