Hug a vegetarian day!  
Did you know that there is a day dedicated to vegetarians called a vegetarian day? This day falls annually on the last Friday in each September. Hug a vegetarian day is devoted to all those people adore animals and practice what they preach by being vegetarians or vegans. Did you know that being a vegetarian or vegan saves about 100 animals per year. This is surely something to celebrate!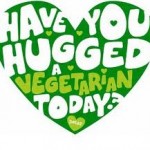 Hug a vegetarian day is promoted by PETA. Take the Pledge to go Veg for 30 days run by PETA UK. We are trying to get as many people as we can to sign up to this campaign and please  contact us to let us know if you have pledged to go vegetarian for the next 30 days. Try and encourage your friends and family to join up to the campaign. It is only for 30 days and there may end up liking it and becoming vegetarian full time. Even if you are already an existing vegetarian or vegan please let us know us anyway to show your support for this campaign.
The next hug a vegetarian day
The next hug a vegetarian day is on 28 September 2012. Make sure you celebrate in style with some delicious vegetarian food and get vegetarian recipes ideas here. Also don't forget to send off for the free vegetarian starter kit courtesy of PETA which includes free vegetarian recipes and three read in recipes. See below.
Get a great hug a vegetarian day T-shirt to wear for 2012 vegetarian day. Design your own or get a ready designed one at CafePress
. £14 and 100% cotton. Check the links for delivery details.
Hug A Vegetarian Funny Light T-Shirt by CafePress
_______________________________________________________________
Get a free vegetarian starter kit!!
Check Out PETA's Brand-New Vegetarian-Vegan Starter Kit
You can download PETA's Brand-New Vegetarian-Vegan Starter Kit right now. It is packed full of celebrity testimonials, great ideas and tips for ditching meat and dairy products. There are also free Vegetarian recipes and free vegan recipes to wow your friends and family.
Get your free vegetarian pack here
Also: Get tips and starter ideas on how to be vegetarian, vegetarian foods and vegetarian recipes with the free magazine Vegetarian Times pdf download. For more details and to claim your magazine visit our offers page
_______________________________________________________________
Useful links
Visit our Vegetarian Corner
Vegetarian Foods
Vegetarian Recipes
How to be a vegetarian
What is a vegetarian
Why be vegetarian
Hug a vegetarian day



Photo credits Image: artemisphoto / FreeDigitalPhotos.net