Calories in TGI Fridays Food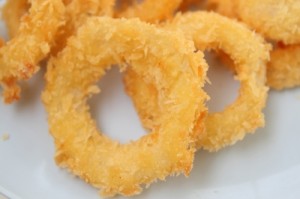 How many calories in TGI Friday's food UK restaurants? Find out what's on the menu and the TGI Friday's calories for restaurant food. Popular dishes at TGI Friday's calorie counted such as vegetable fajitas, ribs, burgers, grills, salads, deserts and more.
TGI Friday's is an American restaurant chain focused on a casual dining style.  The dishes available at TGI Friday's are typically burgers, pasta dishes, salads and a variety of side dishes like onion rings and potato wedges.
The restaurant takes its name from the expression TGIF meaning Thank Goodness It's Friday!
The restaurants use a red striped sign displaying the name TGI Friday's.  The interior decor of the restaurants is known for its red striped canopies, brass railings and use of antiques.  Originating in 1965 and the TGI Friday's chain has built itself into the strong brand it is today and has expanded from America to other parts of the world.
| | |
| --- | --- |
| TGI FRIDAYS Sides / starters Per typical serving                                                 | CALORIES(kcal) |
| Calories in beer battered onion rings | 180 calories |
| Calories in broccoli | 50 calories |
| Calories in Buffalo mozzarella sticks | 160 calories |
| Calories in crispy green bean fries | 190 calories |
| Calories in Ginger lime slaw of | 120 calories |
| Calories in loaded potato skins | 210 calories |
| Calories in medium salsa | 15 calories |
| Calories in mild salsa | 15 calories |
| Calories in mozzarella sticks | 219 calories |
| Calories in mozzarella sticks with marina sauce | 100 calories |
| Calories in mozzarella sticks with sauce | 130 calories |
| Calories in nacho potato skins | 190 calories |
| Calories in onion rings | 140 calories |
| Calories in plain French fries | 140 calories |
| Calories in queso dip | 50 calories |
| Calories in roasted vegetable medley | 100 calories |
| Calories in seasoned fries | 290 calories |
| Calories in southwestern egg rolls | 210 calories |
| Calories in sweet potato fries | 390 calories |
| Calories in Thai style chicken egg rolls | 150 calories |
| Calories in zen pot stickers | 500 calories |
| | |
| --- | --- |
| TGI FRIDAYS Snacks Per typical serving                                                 | CALORIES(kcal) |
| Calories in barbecue flavoured chicken tender chicken strips snacks | 80 calories |
| Calories in Buffalo mozzarella sticks | 160 calories |
| Calories in cheddar and sour cream potato skins snack chips | 150 calories |
| Calories in Chilli and cheese potato skins snack chips | 150 calories |
| Calories in cream cheese stuffed jalapenos | 220 calories |
| Calories in hot pepper Jack cheese fries snacks | 140 calories |
| Calories in nacho potato skins | 190 calories |
| Calories in potato skins snack chips | 150 calories |
| | |
| --- | --- |
| TGI FRIDAYS Chicken Per typical serving                                                 | CALORIES(kcal) |
| Calories in balsamic glazed chicken Caesar salad | 490 calories |
| Calories in BBQ chicken wrap | 831 calories |
| Calories in BBQ flavoured chicken tender chicken strips snacks | 80 calories |
| Calories in breaded honey BBQ  links | 150 calories |
| Calories in bruscetta chicken pasta | 920 calories |
| Calories in Buffalo popcorn chicken | 120 calories |
| Calories in Cajun chicken and shrimp pasta | 950 calories |
| Calories in Cajun style chicken alfredo | 450 calories |
| Calories in Caribbean chicken sandwich | 1210 calories |
| Calories in chicken fingers | 1000 calories |
| Calories in chicken picatta pasta | 1200 calories |
| Calories in chicken quesadilla  rolls | 160 calories |
| Calories in chipotle yucatan chicken salad | 850 calories |
| Calories in complete skillet -cajun style alfredo chicken and shrimps | 360 calories |
| Calories in complete skillet meals-chicken and broccoli alfredo | 340 calories |
| Calories in complete skillet meals- cream chicken pasta carbonara | 340 calories |
| Calories in complete skillet meals- firecracker sesame chicken | 298 calories |
| Calories in complete skillet meals- loaded potato skin with chicken | 350 calories |
| Calories in complete skillet meals-santa fe style chicken | 340 calories |
| Calories in complete skillet meals-sizzling chicken fajitas | 520 calories |
| Calories in cream chipotle chicken pasta | 390 calories |
| Calories in dragonfire chicken | 670 calories |
| Calories in garlic chicken primavera | 560 calories |
| Calories in grilled chicken cob salad | 590 calories |
| Calories in chicken mac and cheese | 480 calories |
| Calories in honey BBQ wings | 150 calories |
| Calories in honey mustard chicken sandwich | 412 calories |
| Calories in Jack Daniel's chicken and shrimp | 570 calories |
| Calories in Jack Daniel's grilled chicken | 500 calories |
| Calories in loaded chicken and cheese | 340 calories |
| Calories in mexian style chicken quesadilla | 260 calories |
| Calories in parmesan crusted chicken | 860 calories |
| Calories in pecan crusted chicken salad | 750 calories |
| Calories in sesame jack chicken strips | 1100 calories |
| Calories in sesame orange chicken | 570 calories |
| Calories in sizzling chicken and broccoli | 620 calories |
| Calories in sizzling chicken and cheese | 1100 calories |
| Calories in spicy Cajun chicken pasta | 1100 calories |
| Calories in strawberry fields salad with grilled balsamic chicken | 810 calories |
| Calories in sweet and smoky popcorn chicken | 160 calories |
| Calories in sweet and spicy sesame chicken | 290 calories |
| Calories in TGI boneless chicken bites with honey BBQ sauce | 150 calories |
| Calories in thai style chicken egg rolls | 150 calories |
| Calories in ultimate Sicilian chicken sandwich | 1000 calories |
| | |
| --- | --- |
| TGI FRIDAYS Chicken wings Per typical serving                                                 | CALORIES(kcal) |
| Calories in breaded honey BBQ wings | 150 calories |
| Calories in Buffalo wings | 170 calories |
| Calories in honey BBQ wings | 200 calories |
| | |
| --- | --- |
| TGI FRIDAYS Pasta Per typical serving                                                 | CALORIES(kcal) |
| Calories in bruschetta chicken pasta | 920 calories |
| Calories in Cajun chicken and shrimp pasta | 950 calories |
| Calories in cedar seared salmon pasta | 500 calories |
| Calories in chicken picatta pasta | 1200 calories |
| Calories in complete skillet meals-creamy chicken pasta carbonara | 340 calories |
| Calories in creamy chipotle chicken pastan | 390 calories |
| Calories in gourmet mac n five cheese | 792 calories |
| Calories in grilled chicken mac and cheese | 480 calories |
| Calories in Cajun chicken pasta | 1100 calories |
| Calories in tortellini with spinach alfredo | 250 calories |
| | |
| --- | --- |
| TGI FRIDAYS Quesadillas Per typical serving                                                 | CALORIES(kcal) |
| Calories in chicken quesadilla rolls | 160 calories |
| Calories in Mexican style chicken quesadilla | 260 calories |
| Calories in Mexican style steak quesadilla | 300 calories |
| Calories in parmesan crusted sicilian quesadilla | 260 calories |
| Calories in steak quesadilla rolls (2) | 200 calories |
| | |
| --- | --- |
| TGI FRIDAYS Steak Per typical serving                                               | CALORIES(kcal) |
| Calories in chipotle grilled steak sandwich | 1509 calories |
| Calories in complete skillet meals-sizzling steak fajitas | 310 calories |
| Calories in flat iron steak | 380 calories |
| Calories in Korean steak tacos | 860 calories |
| Calories in Mexican style steak quesadillas | 300 calories |
| Calories in original flavour steak strips | 60 calories |
| Calories in petite sirloin | 370 calories |
| Calories in steak quesadilla rolls | 200 calories |
| | |
| --- | --- |
| TGI FRIDAYS Desserts Per typical serving                                                 | CALORIES(kcal) |
| Calories in brownie obsession | 1240 calories |
| Calories in chips ahoy! ice cream sundae | 690 calories |
| Calories in chocolate peanut butter pie | 870 calories |
| Calories in oreo chocolate cake | 400 calories |
| Calories in oreo madness | 520 calories |
| Calories in vanilla bean cheesecake | 970 calories |
Useful links
Fast food calorie counter
Food calorie counter
Alcohol calorie counter
Home
Photo credits Image courtesy of fotographic1980 / FreeDigitalPhotos.net
What Diet: Calories in TGI Fridays Food, Calories in TGI Fridays UK